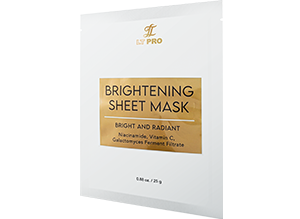 LT PRO Brightening Skin Sheet Mask
Niacinamide, Vitamin C, Galactomyces Ferment Filtrate
Bright and Radiant
The face mask contains Niacinamide, Ethyl Ascorbic Acid and Galactomyces Ferment Filtrate which helps maintain moisture and treat dull skin that is often exposed to sunlight and pollution to make it look brighter and healthier.
How to use:
Clean the whole face. Remove the sheet mask cover then apply the mask on the face. Gently press the mask so that it fits perfectly on the face and stretch the bottom of the mask along the chin to the ear then attach the hook to the earlobe. Leave it for 20-30 minutes. Remove the mask and gently massage the face so that the remaining mask fluid is completely absorbed.
©COPYRIGHT PT. REMBAKA. ALL RIGHTS RESERVED.