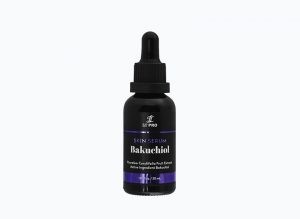 LT PRO Bakuchiol Skin Serum
Psoralea Corylifolia Fruit Extract
Active Ingredient Bakuchiol
Serum with the active ingredient Bakuchiol derived from the seed and fruit extract of Psoralea Corylifolia as an alternative
Retinol. Can be used for all skin types to help maintain skin moisture, slow the appearance of signs of premature aging, treat skin prone to acne and dullness. This serum helps to make skin texture look smoother and disguise fine lines and wrinkles.
How to use:
Use on a cleansed face in the morning and evening. Apply evenly all over the face and let it soak in.
©COPYRIGHT PT. REMBAKA. ALL RIGHTS RESERVED.